The Rideshare Network
The Rideshare Network is an interconnected system for arranging shared rides in Canada and the US. We see it as an important piece of infrastructure in the new sharing economy. Rideshare is completely free to use for drivers and passengers and it serves to reduce carbon emissions by facilitating shared transportation. Besides, it's more fun to travel with company!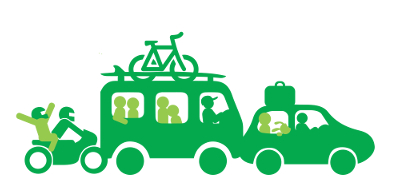 Does your region need Rideshare?
Then we'd love to hear from you! The Rideshare network is expandable by setting up new 'nodes' (sites) in other regions.
What's a Node?
A node is a separate Rideshare site for your area. It shows a list of rides in your area and allows posting of rides and ride requests. It facilitates drivers connecting with riders to arrange shared rides, and allows people to rate their experiences.
How Does it Work?
When a new node is registered:
We set up a new site for that region, which looks just like Kootenay Rideshare but it is named after your city or region and has your region in the URL (https://yourtown.ride-share.org). Setting this up generally takes less than a week.
We limit the list on your site to only show rides that begin, end or pass through your area.
Once set up, nothing is required on your end to maintain the site: we take care of all site maintenance and updates.
Then all that remains is to spread the word in your area about the great free-to-use resource! This is up to you, we have no capacity for promotion at present. In the future we may offer suggestions on how to effectively spread the word locally.
Will My Site be Connected to Other Sites?
If a ride posted in your node passes through a region covered by another node (like the Kootenays), then that ride shows on that site also. Likewise, if a Rideshare user traveling through your area has empty seats, that trip will show on your site. This is because all rides are stored in the same database, and each node simply filters out the rides that apply to that area.
Can Users of My Site Use Other Rideshare Sites?
Yes. Registered users can log into any node using the same password or Facebook account. So if you travel to Vancouver and then need a ride home, you could easily log into the Lower Mainland Rideshare to find a ride back home.
What Does it Cost?
We charge an annual fee for nodes, based on population and/or volume, which goes toward maintaining and improving the Rideshare system. If your organization is interested in establishing a local node, please contact us (below) and let us know about your situation.
Mission / Impact
Rideshare Network's goal is to provide an informational and educational platform that brings communities together through shared transportation, while creating environmental awareness and carbon emissions accountability. Our carbon emissions analytics create a visual representation of emissions reductions that riders and drivers alike can use to see the environmental benefits of ridesharing. It is our hope that through ride sharing, people can make more educated, sustainable transportation choices and inspire others to do the same.
Usage and Emissions Reduction Stats
Click below for up-to-the-minute statistics on Rideshare usership and emisisons reductions.
Statistics
.
Interconnected Nodes
These are the current nodes in the Rideshare network.
| | |
| --- | --- |
| Calgary Rideshare | |
| Camrose Area Rideshare | |
| Castlegar Rideshare | |
| College of the Rockies Rideshare | |
| Cortes Island Rideshare | |
| Cowichan Valley Rideshare | |
| Cranbrook Rideshare | |
| Crawford Bay Rideshare | |
| Creston Rideshare | |
| Edmonton Rideshare | |
| Elkford Rideshare | |
| Fernie Rideshare | |
| Fruitvale Rideshare | |
| Golden Rideshare | |
| Invermere Rideshare | |
| Kaslo Rideshare | |
| Kimberley Rideshare | |
| Kootenay Rideshare | |
| Lardeau Valley Rideshare | |
| Lower Mainland Rideshare | |
| Nakusp Rideshare | |
| Nelson Rideshare | |
| New Denver Rideshare | |
| Radium Rideshare | |
| Red Mountain Rideshare | |
| Revelstoke Rideshare | |
| Rossland Rideshare | |
| Salmo Rideshare | |
| Selkirk College Rideshare | |
| Sparwood Rideshare | |
| Spokane Rideshare | |
| Trail Rideshare | |
| Valemount Rideshare | |
| Whitewater Rideshare | |